3 Tips to Break into Product Management in 2022
Breaking into product management can seem impossible—and expensive. We provide some low-cost tips on gaining the skills and knowledge to make the switch.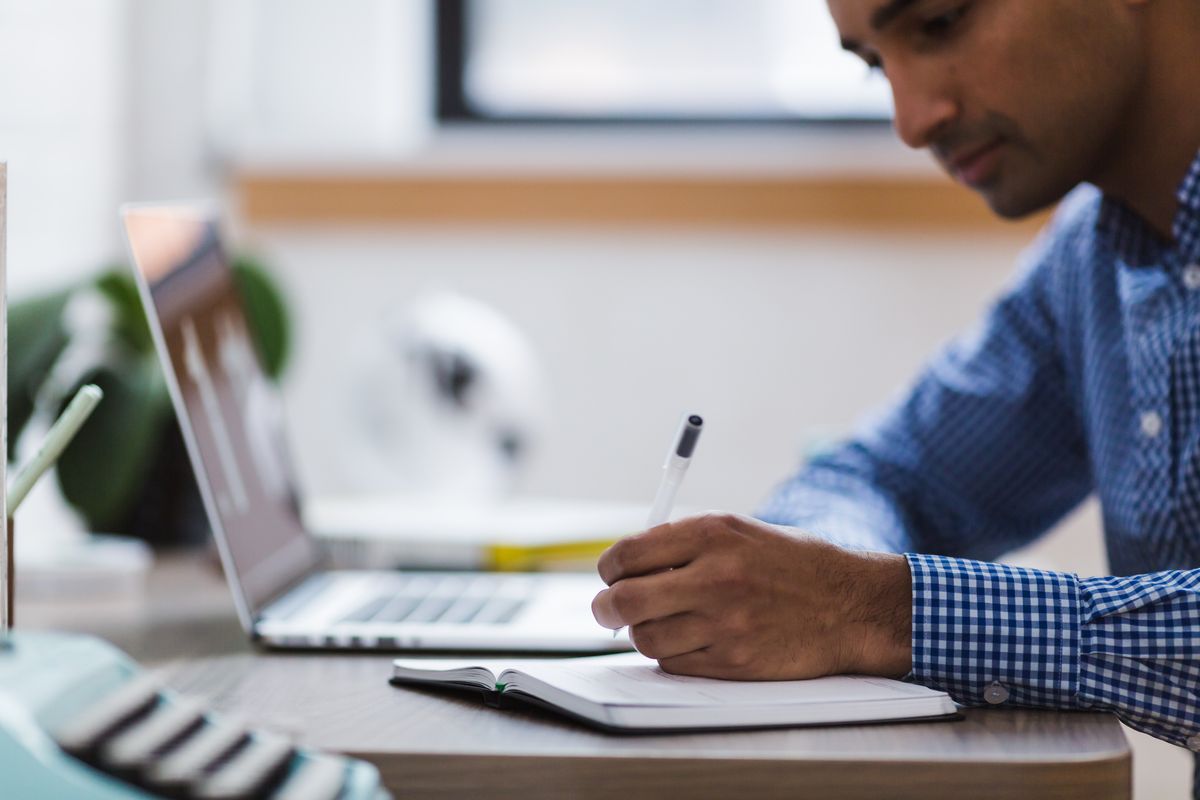 Product management is a sought-after career in tech. It pays well and doesn't require specialized training the way that software engineering and design do. It's a great job for anyone who loves creative problem solving, learning fast, and collaborating with others.
But getting a job in product management isn't easy. Most product management gigs require experience—but how do you get experience if you're not able to land your first PM job?
We spoke to ten product managers and leaders about their path into product management, what they look for when interviewing product managers, and advice on how to gain the skills if you're not in product management yet.
According to the folks we interviewed, it is much, much easier to become a product manager once you've already worked in tech. After a couple of years at a tech company, you'll have a stronger grasp of how products are developed, the way tech companies operate, and how product interacts with other departments.
In the meantime, you can grow your product knowledge while increasing your likelihood of success by doing three things:
Learn the fundamentals—without breaking the bank
Talk to lots of product managers across industries and companies
Set realistic expectations for the work and time involved in making a career pivot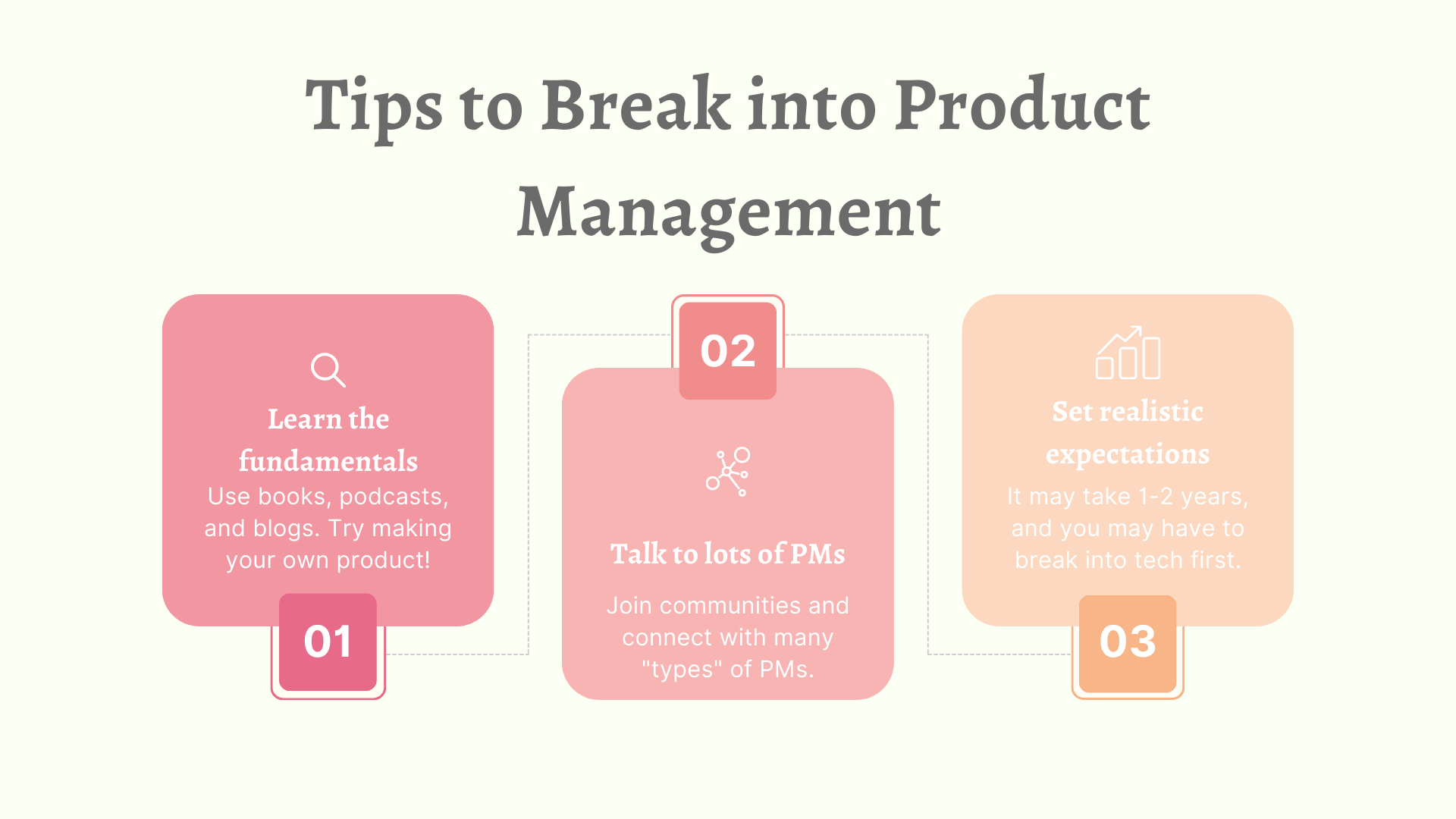 Learn the fundamentals without breaking the bank
It may seem pretty straightforward: if you want to learn how to become a product manager, you could enroll in a course and potentially get certified in product management.
But here's the thing: most hiring managers aren't looking for a seal of approval from a certification—they want to know you have real-world, firsthand knowledge of the types of challenges product managers face.
Product managers regularly have to
negotiate disagreements between internal stakeholders (like leadership and other departments) and external stakeholders (customers, clients, etc.)
make many micro-decisions that can have long-term impacts
operate under ambiguity when there's no clear right or wrong answer
take accountability when a product isn't delivered on time or isn't received well by users
lead meetings, like brainstorming sessions, sprint ceremonies, and executive presentations
It's a hard job! So, a potential employer wants to know that you have some direct experience with how to handle these situations and can speak to both how you've navigated these issues in the past and how you might tackle them in the future.
On top of these challenges, the world of startups and product management is full of jargon and tech speak. As a result, it can be hard to excel in an interview if you aren't familiar with basic concepts like a tech lead, the difference between an engineering manager and a product manager, and basic product development frameworks. Employers want to know that you can speak their language and communicate effectively from day one.
There are two ways you can gain learn some of the basics without paying thousands of dollars for certifications:
finding free resources online
trying your hand at developing your own product (even if it's just hypothetical)
Follow product blogs and podcasts
If you want to build your product knowledge without a heavy up-front investment, consider a few free (or almost free) options:
Blogs: One of the best things about the Internet era is that a proliferation of blogs makes the basics of product management available for free. Some content might be gated behind a paywall, but most blogs make at least some of their content at no cost.
Podcasts: If you're not into reading blog posts, podcasts are a great way to get exposure to lots of product content. Given that many of these podcasts feature interviews with a cross-section of product managers and leaders, you'll get a diverse set of perspectives on how different product managers at different companies do their jobs.
The Product Podcast: Good for aspiring and senior product managers, this podcast by The Product School is a great resource to learn about how product managers at a variety of companies and industries do their jobs.
This is Product Management: Product management can be overwhelming. It's a job with a lot of complexity, responsibilities, and niche skills. This podcast digs into the day-to-day life of product managers and dives deep into product-related topics like customer feedback, research, and managing relationships.
Product People: Focused on how product leaders build products, this behind-the-scenes look gives a better sense of how real people create real products.
Books: Although not free (unless you're a patron of your local library), buying a few books at $15-30 each is significantly cheaper than investing in a course that may cost $3,000 or more.
Launch a project!
On top of reading books and blogs and listening to podcasts, you can also try building your own product. If you want to think like a PM, you need to simulate what it's like to be one. Find a problem that really interests or excites you and come up with a product that solves it. Alternatively, you can use an existing product you really like and come up with ways to improve it.
If you don't have coding skills or a software engineer friend to help you build your idea, you can go through the process hypothetically. Write out how you'd take an idea, research it, create a prototype, test it, build it, launch it, and measure its success.
Also, the rise of so-called "no-code" technology has made it easier than ever to build a workable prototype in Airtable or Zapier without ever writing a single line of code. A product solves a problem, even if it wasn't built by a software engineer.
Hiring managers really want to understand the way you think and how you approach problems. They also want to know that you have a firm grasp on how a product goes from idea to launch and all the phases in between. By documenting carefully your thought process of building a theoretical product, you'll challenge your own knowledge and skill set. (As an added bonus, this is interview practice: many product management interviews include exercises on how you would tackle creating a product from scratch.)
Talk to lots of product managers
The title "product manager" can encompass a wide array of responsibilities and roles. Everything from a product manager's company, their seniority, and their years in the field can make a big difference in their day-to-day.
To understand what shapes these types of product management roles take, talk to a wide variety of product managers. You'll learn the ins and outs even more than you would from books and blogs. By meeting lots of PMs, you'll get a better sense of what it's really like to be a product manager at a variety of companies in an array of roles.
Understand the "kinds" of product managers
Did you know that there are lots of different types of product managers? Product managers can vary based on specialty. Historically, product managers haven't had specialties, but based on skill sets, personal interests, and company needs, product managers can end up focusing on everything from building a developer platform to overhauling a complex legal workflow.
Some examples of product manager types are
Growth: Growth PMs are all about increasing a certain business metric, typically around acquiring new users, increasing revenue, or retaining existing customers. They want to make sure key growth metrics are always up and to the right.
Technical: Technical PMs are usually more familiar with hard skills in software engineering. Often they used to be software engineers themselves before pivoting into product. They spend less time on things like marketing and design and more time on building products for other tech-minded users.
Data: Data PMs are all about analytics. They're likely to be skilled in data science or analysis, and they're most likely working on products that help end users analyze, synthesize, and visualize data.
These PM "types" might be appended to a title, like "Growth Product Manager" or "Data Product Manager." Or the job description may list certain skills that make the job more focused on data, design, growth, etc.
Understanding these types will help you craft your job search. Cecilie Tassone, a product manager in the health tech, adds, "Are you focused on what type of PM role at what kind of company you want? You want to have all these [factors] thought through in a really targeted approach…because spray and pray is not really a thing that works."
And always keep in mind that the role of the product manager isn't the same from company to company, and the main factors that can affect the product manager are the company's
Size: A PM at a 10,000-person company will be focused on a small niche of the company's product(s), whereas a PM at a 30-person company might be working on the entire product.
Stage: Product managers at Series B companies might be focused on scaling the product, while product managers at a pre-seed company are trying to find product-market fit.
Business model: Product managers of business-to-consumer (B2C) companies will usually have a lot more users and will rely on quantitative data to make decisions. Meanwhile, business-to-business (B2B) product managers will be focusing more on the qualitative needs of their business' clients.
Industry: A product manager at a health care tech company will need to know a lot about regulations and data privacy, while a product manager at a social media company will need to know a lot about communities and algorithms.
By understanding how these company factors affect the product management role, you can better target your job search efforts. Diane Huang, Senior Product Manager at Canva, recommends, "Find out what your goal is, what your objective is….Focus on a short list of companies in a space you want to be in, [and] show your expertise in your interview."
Join communities that interest you
If you're looking for product managers to meet, consider checking out product and tech communities as well as conferences. Many of these communities are free to join and hold free events.
Some communities are specifically for members of underrepresented groups in tech and are a great place to meet others who will understand where you're coming from—and where you're trying to go.
A few we'd recommend are
Other groups are for product managers, regardless of identity. Although many resources list paid communities (or communities that offer premium memberships), we've decided to only list communities that are free:
Bonus: A lot of hiring managers hang out in these communities, so this is a great place to ask what they're looking for in product management applications! These communities are also a great place to meet software engineers and designers who can talk to you about what it's like to work with product managers.
These communities are also great places to find mentors. Matt Bilotti, Product Lead at AngelList, says, "The biggest thing I did early in my career—the thing that helped me the most was finding somebody that was a few steps ahead of me that could be a mentor of mine…Having someone who has done it before and seen it before in a lot of different contexts—that's by far the biggest unlock that I have seen."
💡
On Merit, you can find product managers across tech to speak to—for free. When you
sign up
, you can book time with multiple
product management mentors
who can tell you about their jobs and give you advice on breaking into product management.
Set a realistic timeline to make the transition
A career pivot is a journey—one that may take some time and tools to achieve. To become a product manager, you might need to do some or all of these things:
Learn basic product management skills through books or blogs
Speak to lots of different product managers
Join and build a community
Break into tech in an adjacent role and make an internal transfer
Create or simulate creating your own product
All of these steps take time and patience. Rather than setting a three-month timeline, consider 1-2 years with potential setbacks on your journey. This is where a mentor can be a critical lifeline: someone to bounce ideas off of, troubleshoot where you're getting stuck, and recommend other folks you can talk to.
Understand what a product manager is—and isn't
One of the most common phrases used to describe a product manager is "the CEO of the product." It's the image that often comes to mind when we think of product managers: the person who has all the answers, creates a bold vision, ensures their team executes it, and brings the company success and wealth.
But in reality, product management requires influence without authority. Despite having "manager" in the title, product managers are not the boss of anyone on their team. No one reports to them, and they don't have the power to say "We're doing this" and everyone else must comply.
Nikitha Suryadevara, Product Manager at Google, talks about how surprising this can be for new product managers: "[It]can be kind of a shock when you realize that not everything is going to go your way, or you can't just call all the shots, because you do have an entire cross-functional team of engineers and designers and other folks that you need to convince before you can just do what you want."
Instead, product managers spend a lot of their days trying to persuade others to buy into their vision, making compromises with engineers and stakeholders, and operating with uncertainty. It requires humility—admitting you don't know the answers and being willing to move forward, even when the situation is unclear. Maragarete Ousley, Senior Product Manager at Nike Valiant Labs, explains that being a product manager "is tough on your ego! From the outside, it seems like a powerful role, and it is…[but] you're not dictating to people; you are constantly convincing people."
Additionally, product management isn't all the glamorous work of defining a roadmap and creating user requirements. Product management can also include some in-the-weeds, draining tasks:
Write documentation (multiple PMs we spoke to highlighted that product management is a lot of writing)
Run meetings
Triage incoming support requests
Create tickets and maintain a backlog
Transcribe and catalogue user interviews
If you're looking to learn the ins and outs of what it's like to be a product manager, asking some current PMs is a great place to start.
Merit
allows you to schedule time with
product mentors
for free. You can also chat with software engineers and designers who can tell you their perspectives on working with PMs.
Break into tech first, then product management
The easiest way to break into product management? Make an internal transfer within your company. Be great in a product-adjacent role, likes customer success, marketing, software engineering, or account management and demonstrate some key product management skills and traits:
Creative problem solving
Writing
Customer empathy
Curiosity
Data analytics
Market research
Cross-functional communication
Project management
Attention to detail
Thinking in the micro and the macro at the same time
Basic leadership
Product managers almost always have too much on their plate and are coordinating across many departments. Show your understanding of their pain points by
Offering to connect them with users or customers for interviews
Sharing key insights gained from research in your own work
Problem solving with them
A hard truth of product management is that most managers of PMs are stretched thin themselves, so, as Ellen Chisa, Partner at Boldstart Ventures, explains, "Frankly, no one really often has the bandwidth to train PMs who haven't been PMs before, so you often need a little bit of that social capital within an organization to be able to get into the role."
A lot of product work is deeply understanding and caring about the people for whom you're building products. The more you can show that you understand customers and their needs, the more likely product managers will turn to you for help—and offer you help in turn. Jen Hau, Director of Product at Nava Benefits, explains how her product management team helps her source new PM hires internally:
"Sometimes my team of PMs will form these partnerships with people on the ops side or customer success side and an informal mentor-mentee relationship will form. It'll start with "Hey do you want to help me review this spec?" or "Do you want to help me gather a couple of really trusted stakeholders for a meeting?" And then inevitably when I'm a hiring manager and we need another PM, it's my PMs who then tell me, "Don't hire someone else; bring in this person because this person has been doing the work with me and wants to be a PM."
---
Becoming a product manager is a journey—and you'll need help along the way. Merit is dedicated to helping folks launch and grow their careers in tech through mentorship. Having a mentor is a great way to get support and advice on your path to becoming a product manager.
A huge thanks to all the product managers and leaders we spoke to, including Merit mentors Matt Bilotti, Cecilie Tassone, Diane Huang, Jen Hau, Nikitha Suryadevara, Ellen Chisa, and Margarete Ousley, for offering their time, expertise, and advice.