How to Build a Network Without LinkedIn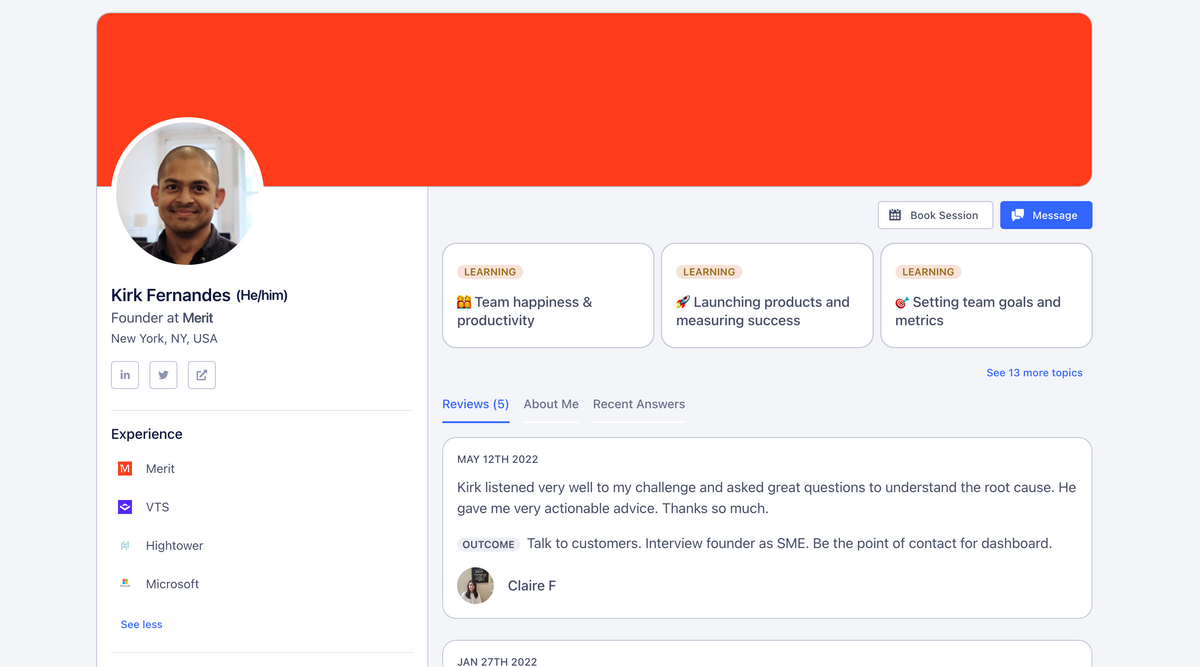 When starting out in tech, it is hard to know how to meet other professionals. Sometimes it can feel like your only way to break into the industry is to send countless LinkedIn messages, hoping something will turn into a conversation.
On Merit, we make it easy to find people who want to help. Instead of browsing hundreds of LinkedIn profiles for a potential connection, everyone on Merit is here to help. Each mentor with an active profile joined Merit so they could make connections and help others.
💡
Looking to build your network? Find a mentor by
joining Merit
today.
Furthermore, mentors specify what they want to talk about and why they mentor, whether it's meeting people, giving back, or learning what's happening in the industry. Unlike Linkedin, Merit makes it much easier to network with folks on a topic of mutual interest.
Although many people think of LinkedIn for networking, it's not really built for you. As a digital resume, LinkedIn takes your current positions, work history, and career moves to sell to recruiters and salespeople who use this information at their companies. It's hard to network because LinkedIn is really just built for companies to find candidates and new leads.
LinkedIn is built to help recruiters and salespeople find leads, but it's a drag to use it for networking. Only 10% of cold outreach on LinkedIn messages receive replies. And it's even worse if you're someone just starting out their career or don't have a large existing network.
LinkedIn can tell you where a person worked, went to school, or the languages they speak — all great to know if you're trying to find someone to hire or sell to. But if you want to know how they can help or who they want to talk to, it's nearly impossible. Since many people have LinkedIn profiles just in case a relevant job or deal comes through, many people have profiles because they feel like they have to instead actively use it to network.
A site built for easy professional networking — and building your career — should make it seamless to meet folks who want to connect and collaborate. So we built Merit to be a great tool for networking. You can find people who want to collaborate on topics of mutual interest. And our mission is specifically to help you build a network in tech and grow your career.
Here's how to get the most out of networking on Merit:
Write out your goal
Find people that match your topics and interests
Book time with them
Prepare for the meeting
Afterwards, follow up!
1) Write out your goal
Take a moment to write out what you're looking to accomplish. Having a goal written down will make it easier to search for a mentor who can help you. From facilitating thousands of conversations, we've found that the most important things to write out are
What are you looking to accomplish
What you've tried to date
Where you're getting stuck
Spending even a minute or two writing these points out will make everything about networking with others way easier because they'll know exactly how to help.
Example
How do I navigate my first job search remotely? I find networking to be difficult and awkward—and doing it remotely (slack groups, remote conferences, etc.) are the worst.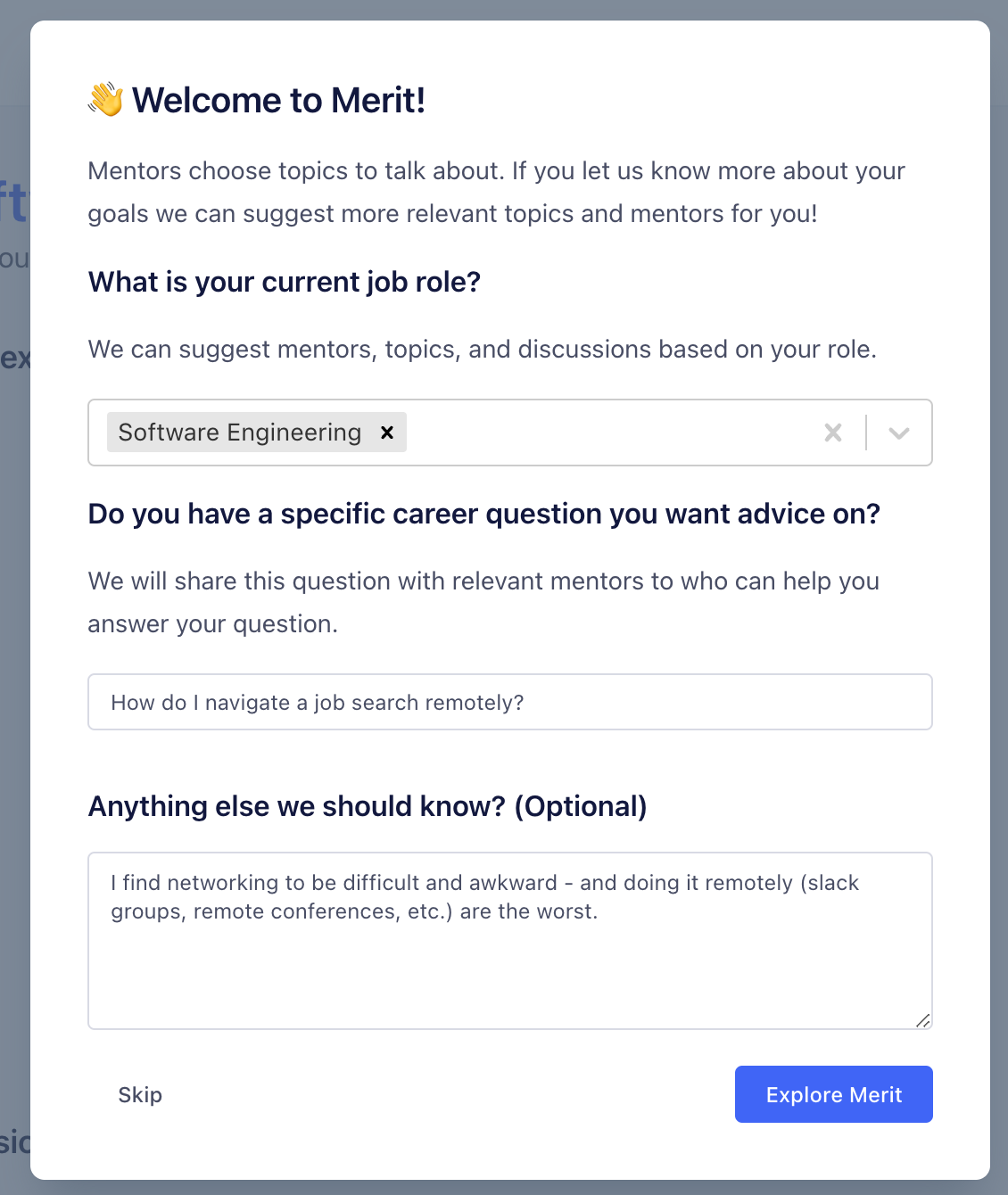 2) Find people who match your topics and interests
Once you know what you want to talk about, you can easily find people who have relevant experience. All you have to do is browse a few profiles to decide who looks like someone you'd want to talk to.
You can filter by topics that match what you're looking for, as well as the job role and level you think best matches where you'd need help.
3) Book time with them
Once you've identified someone you want to talk to, you can book time with them! On Merit, when you click Book Session you'll immediately see available time on their calendar. When booking time with people, you can make a better conversation for both you and them by choosing a relevant topic and providing ample context (as you've already written) for what you're looking to learn.
Some mentors have a setting requiring someone to request a session before providing access to their calendar, where they ask for this context up front before you can access their available time slots. If they accept your request, you'll have access to their calendar as described above. If you've written out what you're looking to accomplish in advance, providing the context should be pretty easy to do.
4) Prepare for the meeting
After booking a session, you can share the specific questions you're trying to ask, as well as additional context for what you've tried to date. That way you can go into the session knowing what you want to talk about and give the mentor plenty of time and space to come to the meeting with ideas, stories, and resources. This prep in turn helps you by increasing the chances that you'll leave the meeting with tactical takeaways and next steps.
5) Afterwards, follow up!
During a mentorship session, you're bound to learn a lot, exchange ideas and resources, and discuss what to try next. As a mentee, it's still ultimately up to you to put in the work and follow up with the lessons learned.
In Merit, you can help keep track by writing down specific action items and resources to look at after your session. Following up with mentors on these items (for example, I read the book, I applied to the job, etc.) is the way you go from one-off conversations to building productive connections and relationships. People love to know that you actually learned something and did something new. If you just tell someone that you took action based upon your conversation, they'll remember that you used the time well and will be more likely to help you in the future.
Overall, making connections and building a network on LinkedIn is really hard. LinkedIn is built for sales and recruiting, not networking and career growth. We purpose-built Merit to help you find people who are willing to help.
---
Looking to build your network? Find a mentor by joining Merit today.