Looking for a Tech Job? Nail Your Job Search with Merit
Finding a job has never been easy. Submitting your resume, trying to give a good impression in an interview, hoping you'll hear back: each step leaves you feeling nervous and uncertain. The process requires time and hard work with no certain payoff. It can feel incredibly lonely. Fortunately, you don't have to do it by yourself. Free resources like Merit can help you prepare and execute a successful job search.
In tech, the best-case scenario is that you land an offer with the very first company you interview with. Even then, that process will take at least 6 weeks. And every step requires work!
Week 1: Submit application
Week 2: Phone screen with recruiter
Week 3: Screen with hiring manager
(Possible take-home assignment)
Weeks 4-5: Onsite
Week 6: Offer/rejection
And not every company moves this fast! Sometimes weeks pass between each phase. It's far more likely that the process will take anywhere from 3 to 6 months.
Thriving in Your First Tech Job Search
However, you don't have to go through this multi-step process over and over by yourself. Tools like Merit can help you find support, advice, and feedback to help you launch, execute, and refine your job search. Merit's mentors can help you every step of the way:
Set goals
Prepare your materials and build your network
Apply and interview
Reflect and refine
Keep searching and don't give up!

You can start meeting with mentors on Merit today to launch and accelerate your job search by signing up.
Set goals
The very first step—before you polish your resume or apply to a single job—is to define the type of job and company you want. Writing out what you're looking for (and why) will help you narrow your search.
For your role, write out your ideal title and responsibilities. For the company, think about what factors would be most interesting to you:
stage: Do you want to work at a very early-stage, pre-Series A startup? For example, you'll most likely wear more hats and have a less defined career ladder than if you went to a more established startup.
size: Do you want to work at a 20-person company where you know everyone, or would you rather be at a 500-person company where you mostly know people on your team?
industry: Are you interested in health tech companies? Prop tech? Social media? Internet of things?
business model: Would you like to work for a B2B or B2C company?
Don't forget to consider some important parameters as you enter your search:
your desired compensation range, including both salary and equity. Use tools like Glassdoor to help you understand the typical range for your target role.
your maximum number of applications before you revisit your approach. Try to submit at least 20 - 30 applications first.
your maximum search time before your revisit your approach. Don't spend too long being stuck; after 3 months, reflect on your search so far.
Informational interviews
If you're not sure what kind of role or company would be the best fit for you, you can reach out to mentors for an informational interview to learn about their job and what their company does. You can then pattern match the jobs and companies you're interviewing for.
On Merit, the best way to find someone to informational interview is by filtering for the job role you're interested in on the Mentors page using the Job roles dropdown.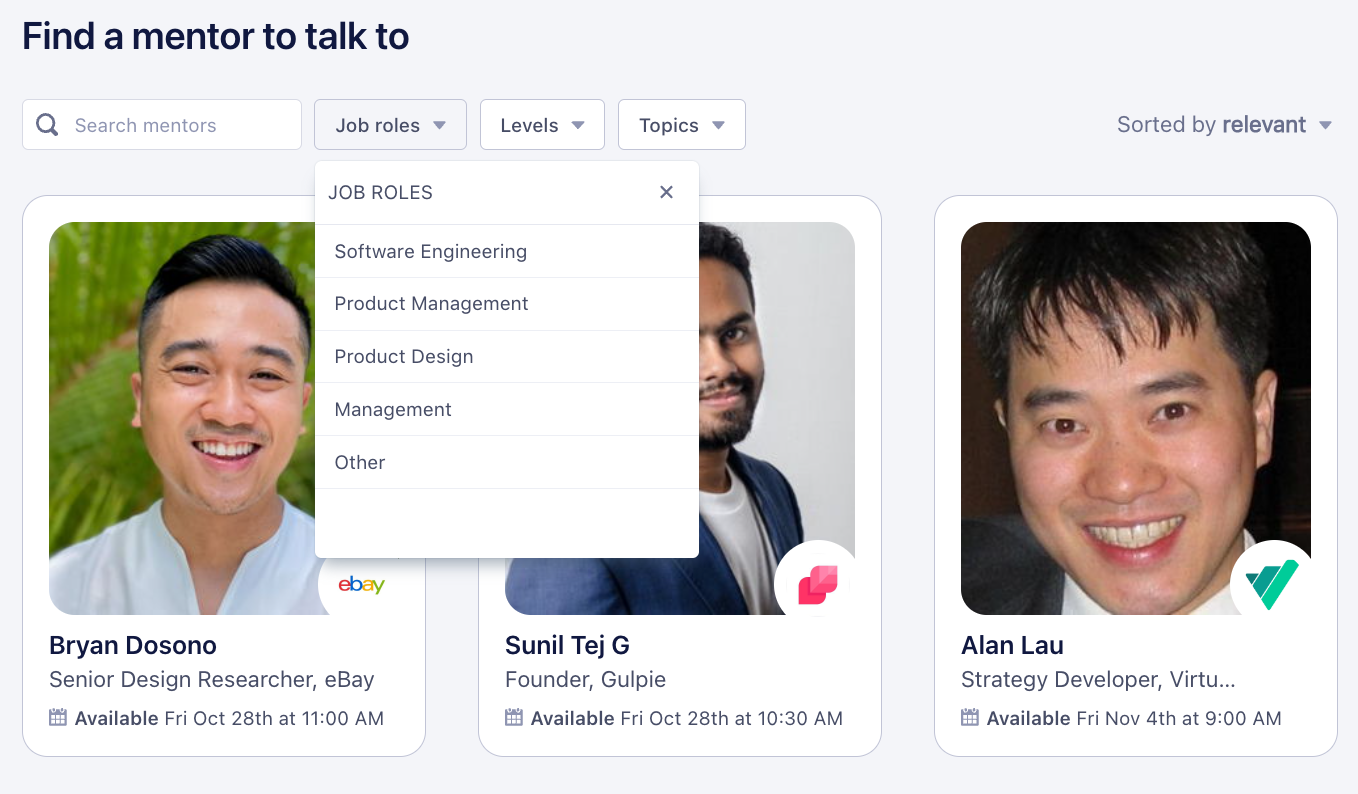 Book sessions with people who are working or have worked at the kinds of companies you think you might like. Mentor profiles include work experience as well as a link to the mentor's LinkedIn profile, so you can get a sense of their work history.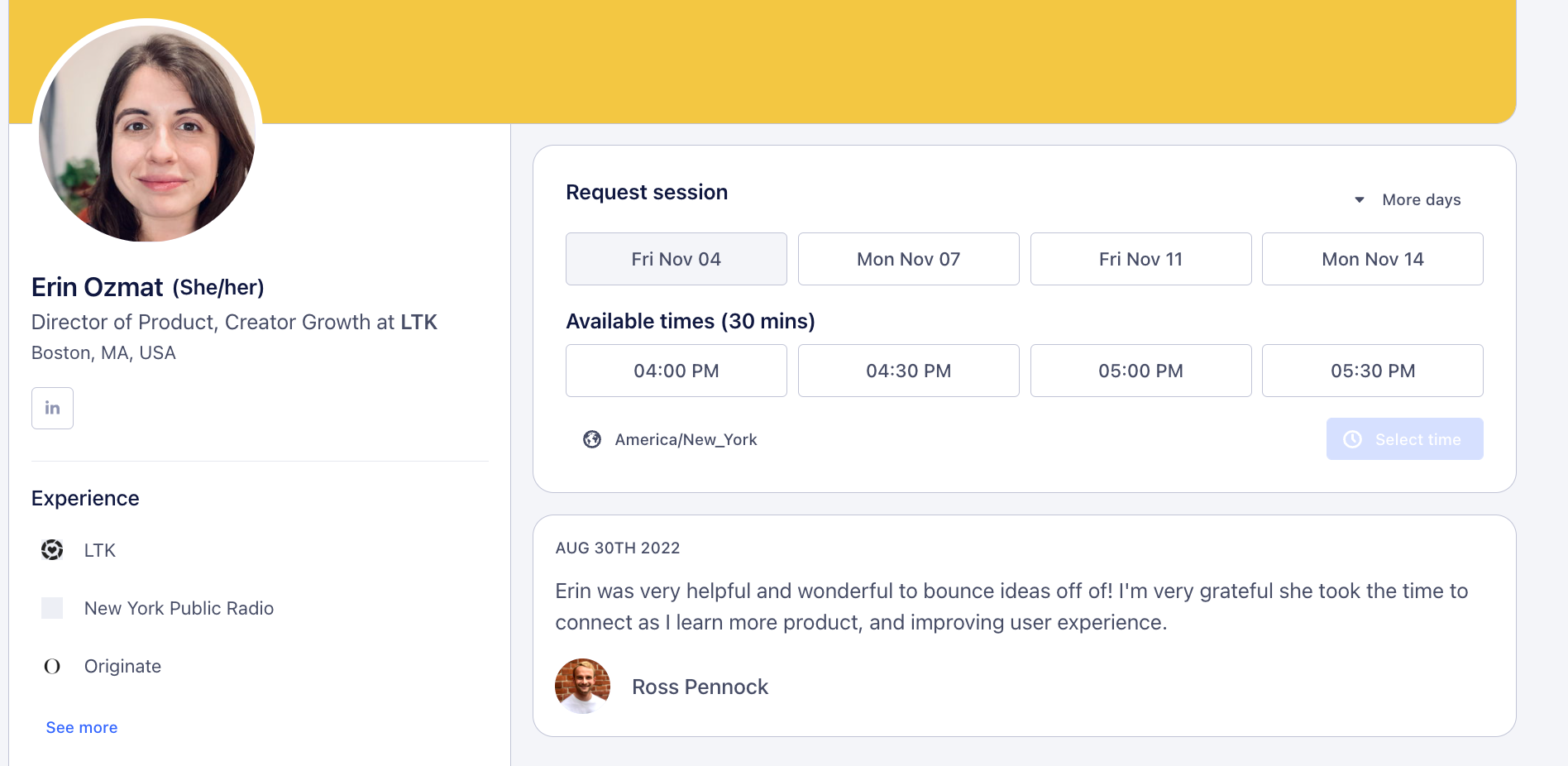 Prepare your materials and build your network
Once you've decided the kind(s) of companies and roles you want, you can start preparing to apply and interview. During this stage you'll want to
have someone provide feedback on your resume, portfolio (if you're a designer), and/or side projects (if you're an engineer)
practice interviewing before the real deal
make connections with lots of folks you can reach back out to later
Resume and portfolio review
Your resume (and portfolio) are the first thing a company will see. It's your very first impression! Anyone you interview with will look at your resume before they talk to you, so you want to make sure your resume looks great, reflects your experiences, and demonstrates why you're a good fit for the job.
It always helps to have another set (or a few sets) of eyes on your resume to spot typos, suggest revisions, and share how they'd interpret your resume. Many mentors on Merit are either hiring managers themselves or participate on hiring panels, so these are the folks you want looking at your resume!
To find them on Merit, use the Topics dropdown to filter for 🖋 Resume and portfolio review, which will show you a list of mentors who have indicated they're open to reviewing resumes and portfolios.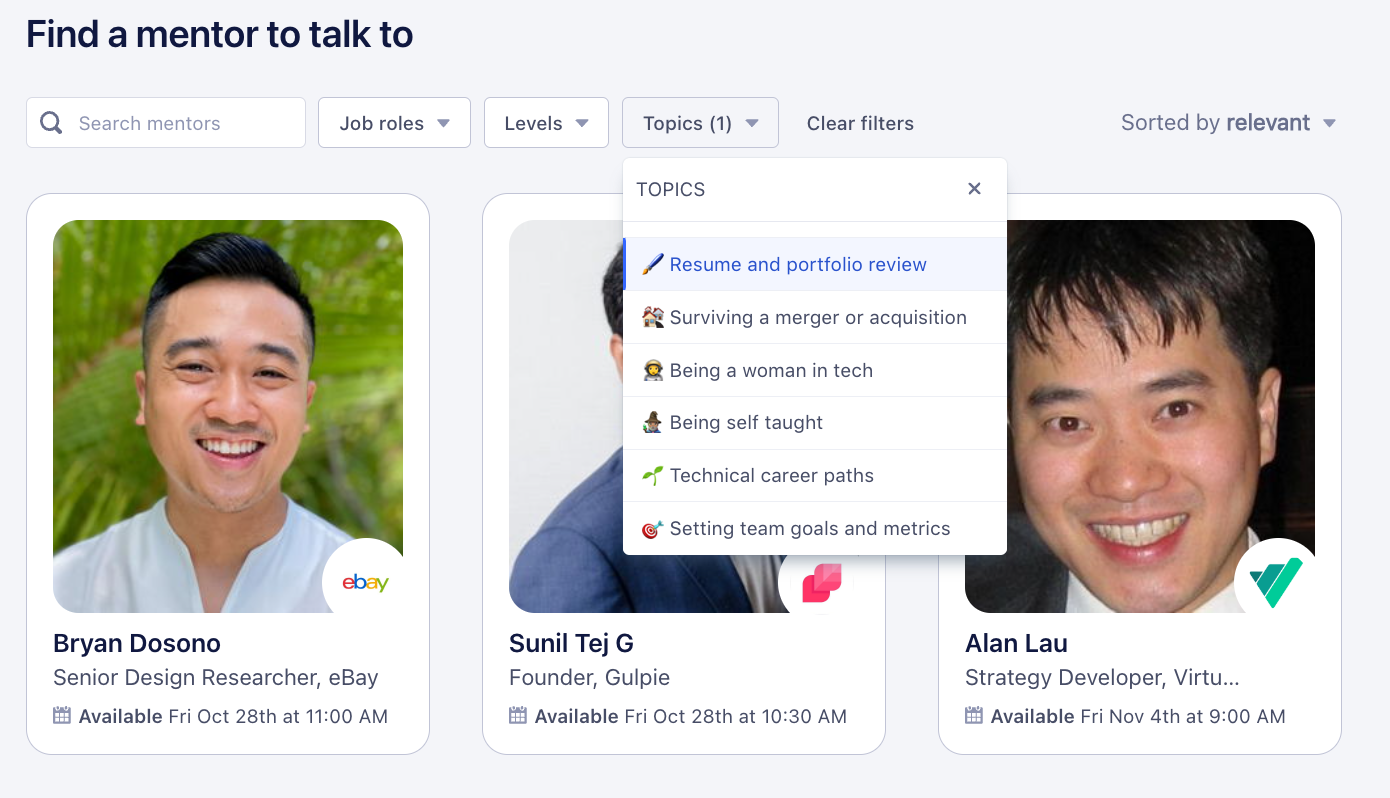 If you want to make sure only product managers, engineers, or designers look at your resume or portfolio, you can add an additional filter under the Job roles dropdown: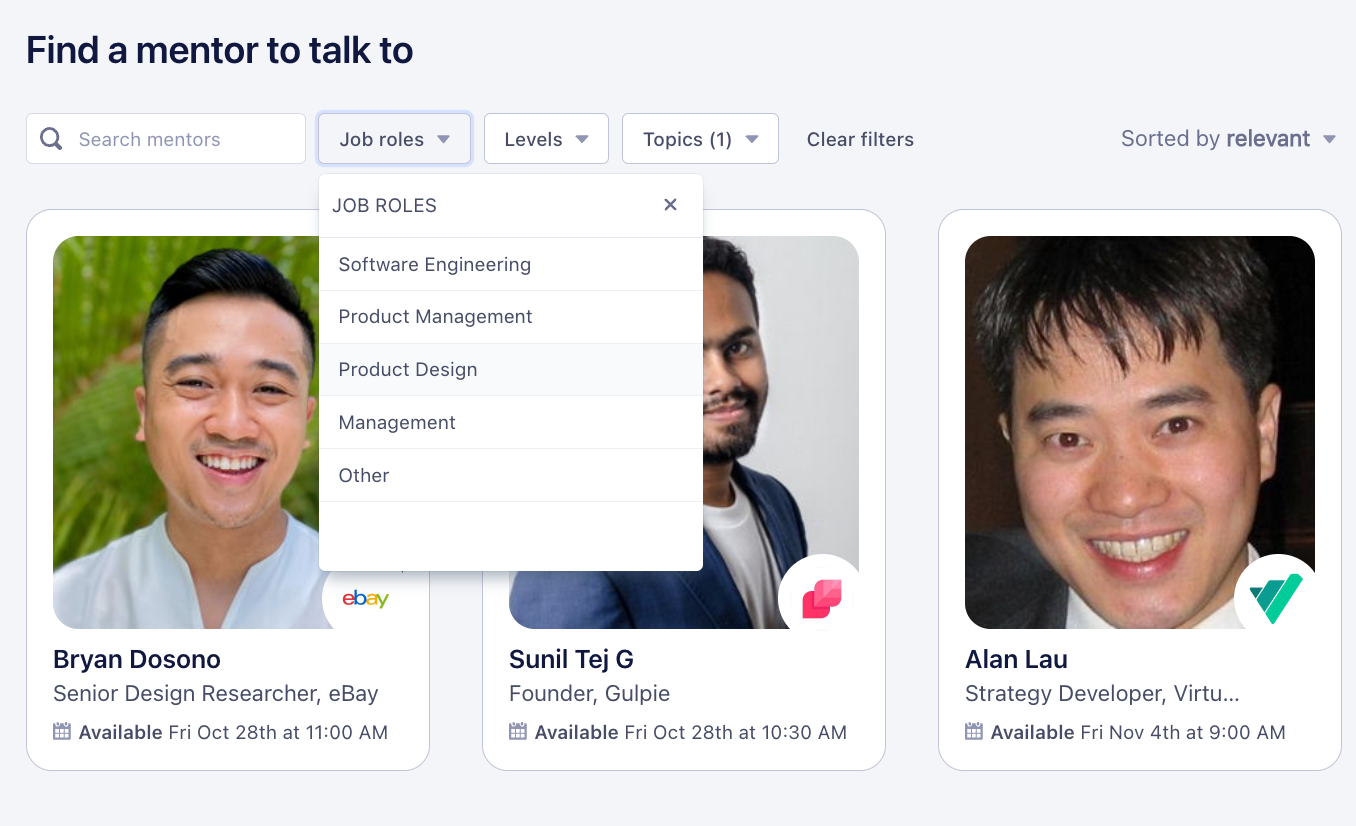 Mock interviews
Throughout your career, you'll probably find that your first interview in every new job search is your worst one. A mock interview is basically a practice interview: it simulates the real-world conditions of an interview but with none of the real-world consequences.
It's a great way to get that worst interview out of the way while getting constructive feedback on how to show your best self.
Mentors on Merit can help you conduct mock interviews. Find them by using the Topics dropdown to filter for 🎭 Mock interviewing.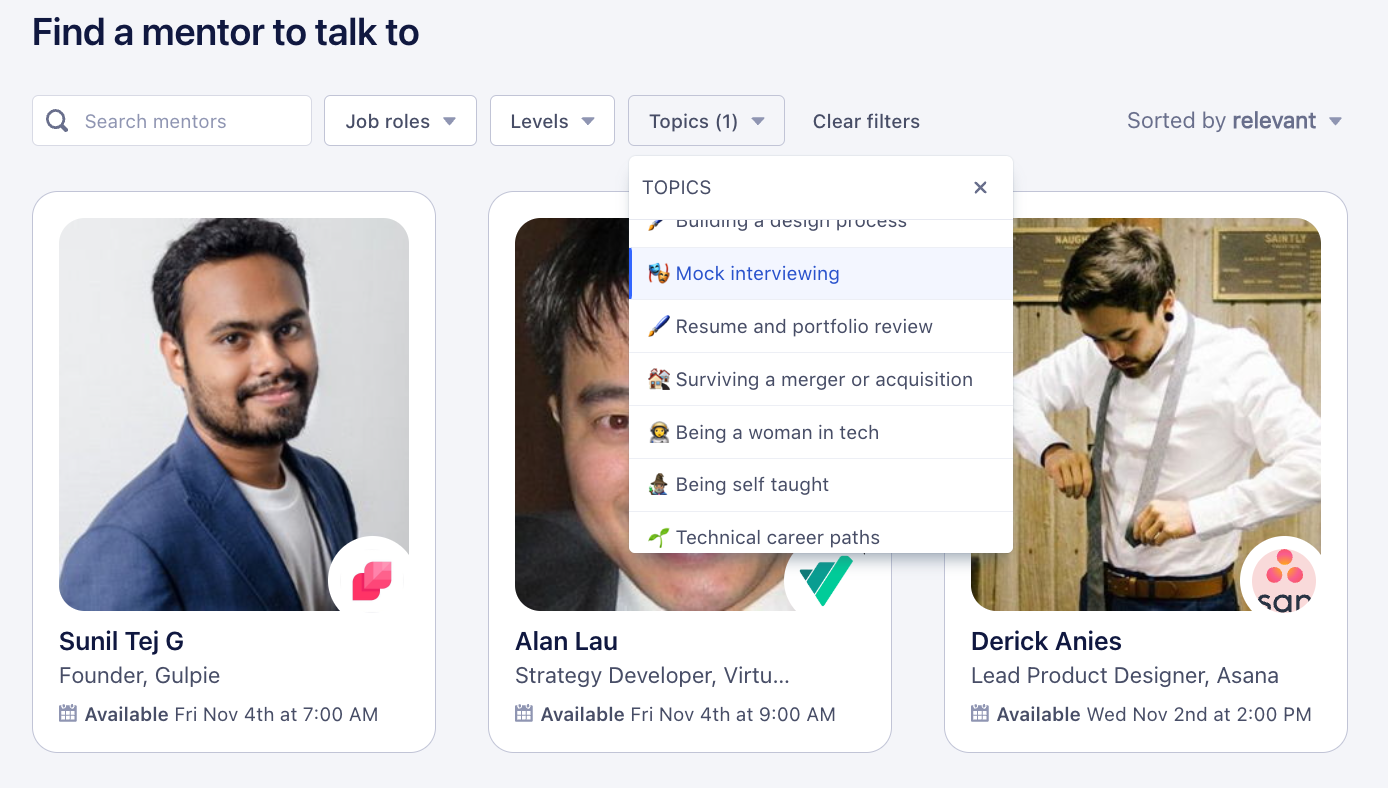 Apply and interview
Now that you've set your goals, prepped your resume, and practiced your interviews, it's time to go out and apply!
This stage can be exhausting, so it's helpful to set small, measurable goals, like "Submit one application a day."
Track every application you submit and its status. You can set this up in a tool like Google Sheets or Trello with columns for each stage. For example, if you're a software engineer, your setup might look like this:
Company Name
Application status: Application submitted, Phone screen, Coding Screen, Onsite, Offer, Rejected
Last Updated
Notes

Consider doing some analysis on your search:
Response rate: percentage of applications that receive a response
Interview onsite rate: percentage of phone and/or coding screens that lead to an onsite
Offer rate: percentage of interviews that lead to an offer
Making connections
Throughout the process, keep chatting with folks outside of applying. These chats don't have to be for the express purpose of getting a job—it can be to help you build up and sustain your network. Connections you make now may lead to referrals at some point in the future.
To find mentors to chat with, consider looking for topics based on your discipline and your career journey:
Reflect and refine
Your job search may not be successful right away, and that's okay! Job hunting takes time. After a few rounds of interviews, you may want to take some time to review
what you've done so far
what's working well
what could be going better
what you might change going forward
These changes could be to your resume, to the types of companies you're applying to, or something else. But it's important to keep iterating throughout the job search if you think what you're doing isn't returning the results you want (an offer!).
You can use your analysis to structure your review. If you're seeing a low response rate to your applications, you might want to revisit your resume. If you're seeing that you have a high response rate to applications but a low coding screen pass rate, you might focus on mock coding interviews.
For each change you make—to your resume, coding screen approach, portfolio—measure if your percentages are increasing or decreasing. This tracking helps you confirm if your iterations are making a difference.
Debugging session
You've been applying to at least a job a day for a couple of months—and nothing. You need help diagnosing what might not be working:
Are the companies you're applying to not a good fit?
Are the roles you're applying for not a good match for your skill set?
Is your resume not reflecting your experience or catching recruiters' eyes?
Are you accidentally letting yourself down during the interview?
You probably won't be able to answer all these questions on your own. Reaching out to a mentor for a debugging session is a chance for you to describe what you've been doing and what's not working. The mentor can help you identify areas of improvement with suggestions for what you can try next.
To find a mentor who can help you debug, filter by your role on the Mentors page.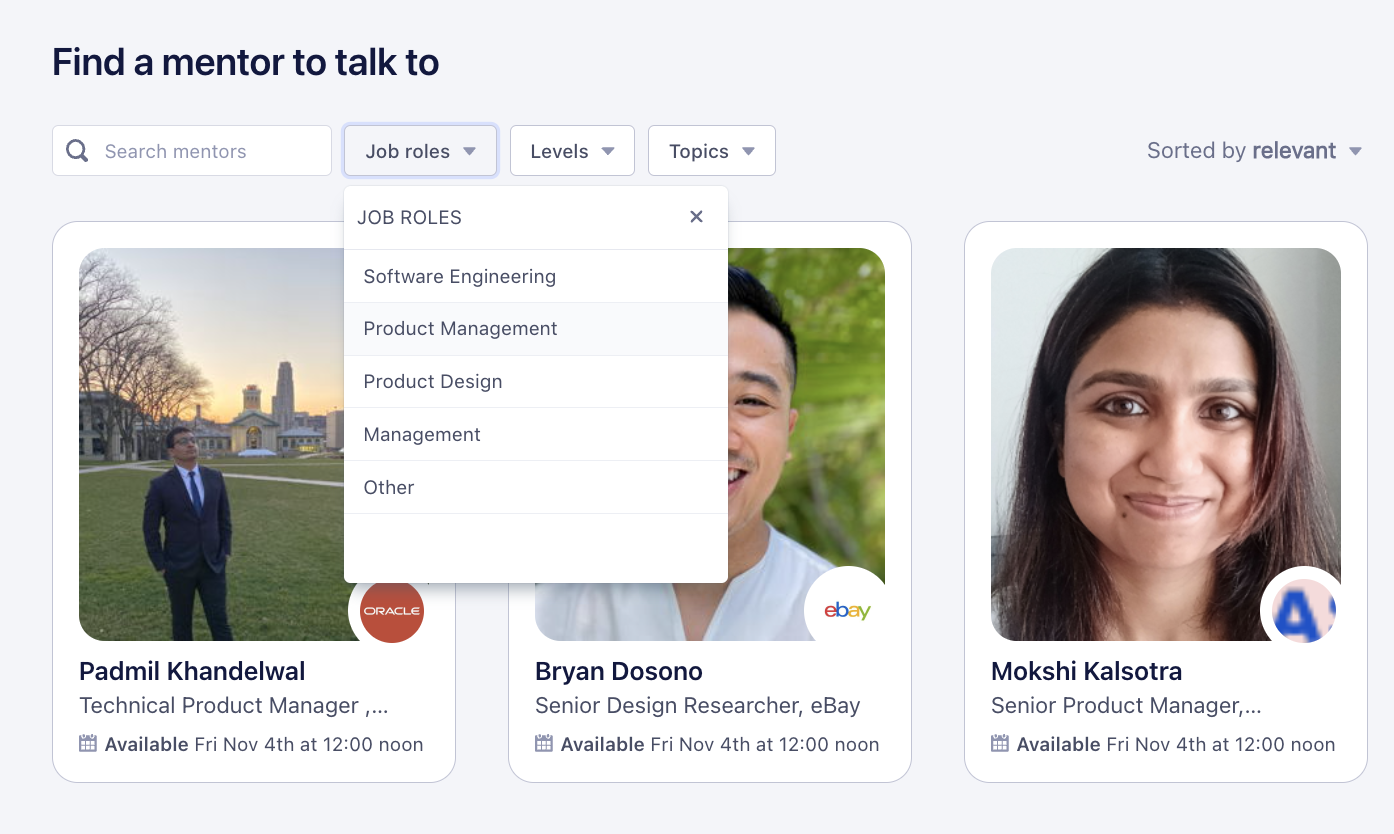 Keep searching and don't give up!
Once you've gotten some feedback and made adjustments to your process, it's time to get back out there. The application process is grueling. Sometimes it can feel like rejection after rejection with no visible progress. But with every interview and application, you can learn something.
If you're feeling discouraged or like you need an ear, a mentor can empathize (everybody's had to go through at least one job search) and provide support. You're not in this alone! Every connection you've made at this point is part of your greater professional community. Don't be afraid to ask for help.
One of the easiest ways to get help is by signing up for Merit and accessing its community of hundreds of product, engineering, and design mentors—for free.