Bringing Connections Into Real Life: Merit's First Event
Merit held its first in-person event on Wednesday, November 9. We'd planned for it to be a space for mentors and members to meet and connect in person. Although we firmly believe in the value of remote mentorship, we also want to provide opportunities for folks to connect in person. With a great turnout, we found it was the perfect way for current and new members of the Merit community to meet and get to know one another.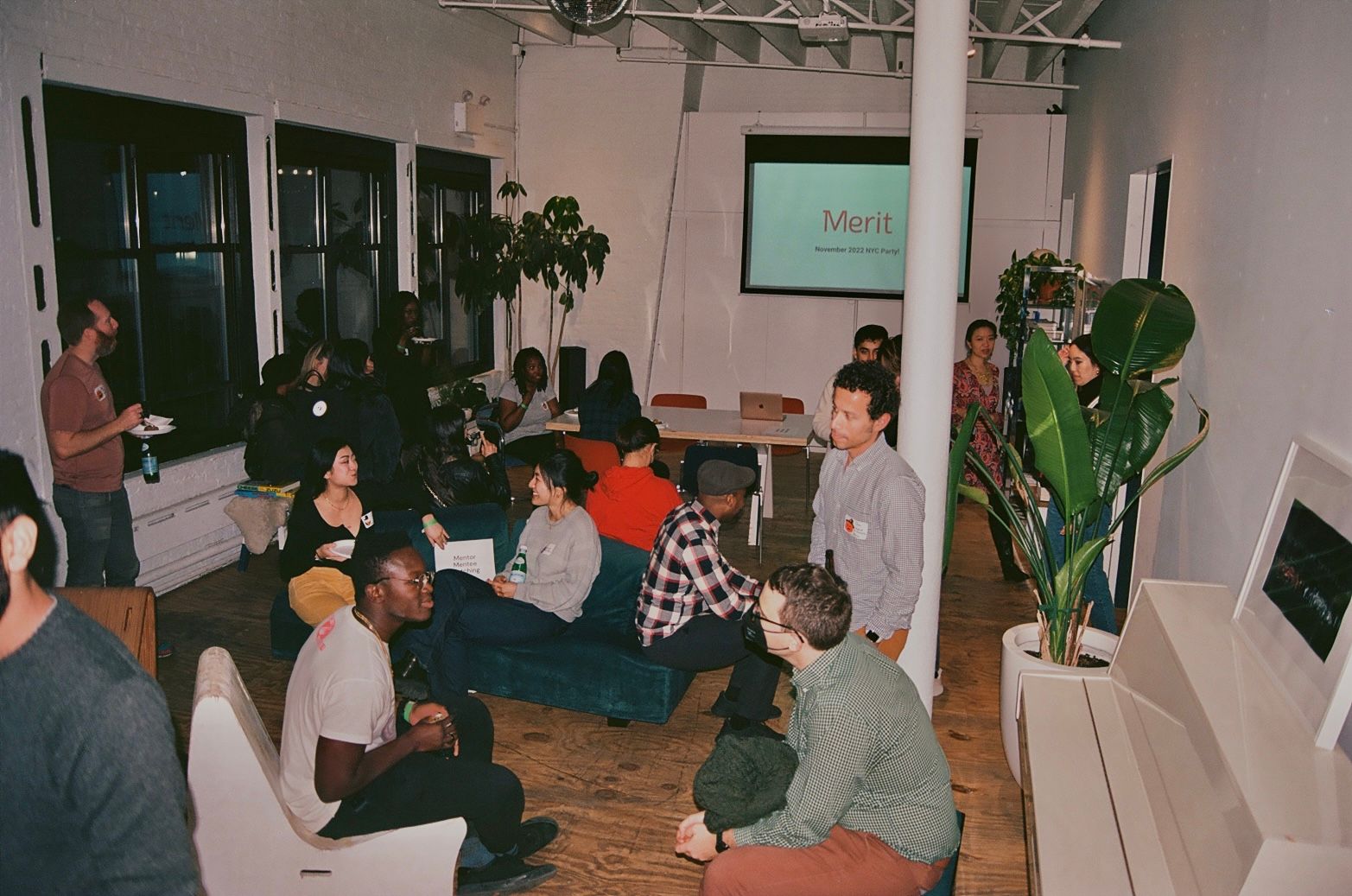 We had 60 attendees join us in lower Manhattan for drinks, dumplings, and discussions. We wanted to emphasize the power of connection. Meeting new people can be challenging, and forming professional connections can feel like banging your head against a wall at big conferences or unstructured happy hours. After all, we've found that "networking" is actually the worst way to build your network—making connections is way more effective.
Over the course of the evening, mentors sat down with groups of mentees for mentor-mentee matchmaking. Mentors answered questions about how they got their first job in tech and what they wish they had known when interviewing for their first job. One of the things we often forget is that everyone has had to go through the process of getting their very first job. Asking for help is one of the best (and easiest) ways to move your job search forward.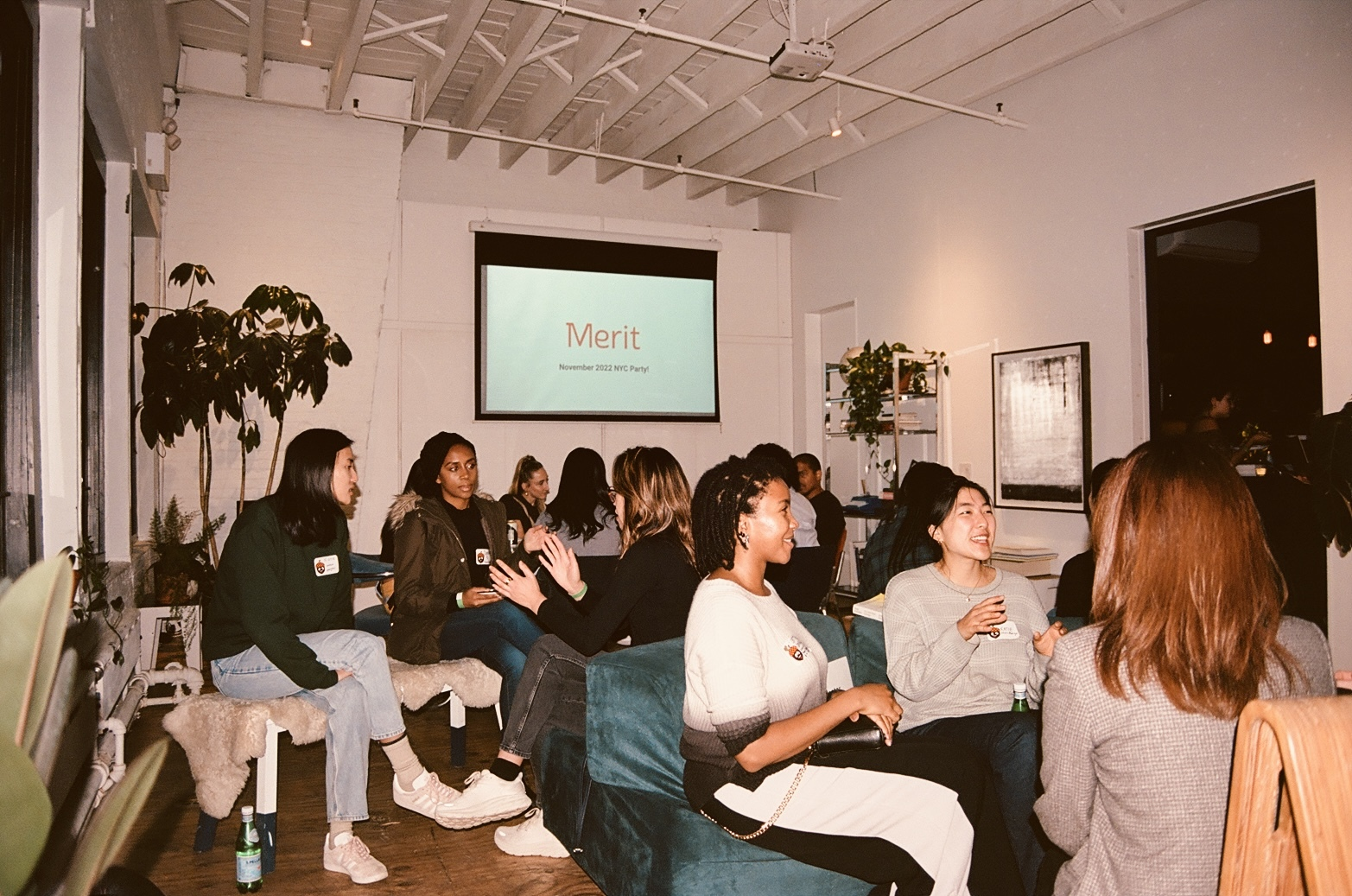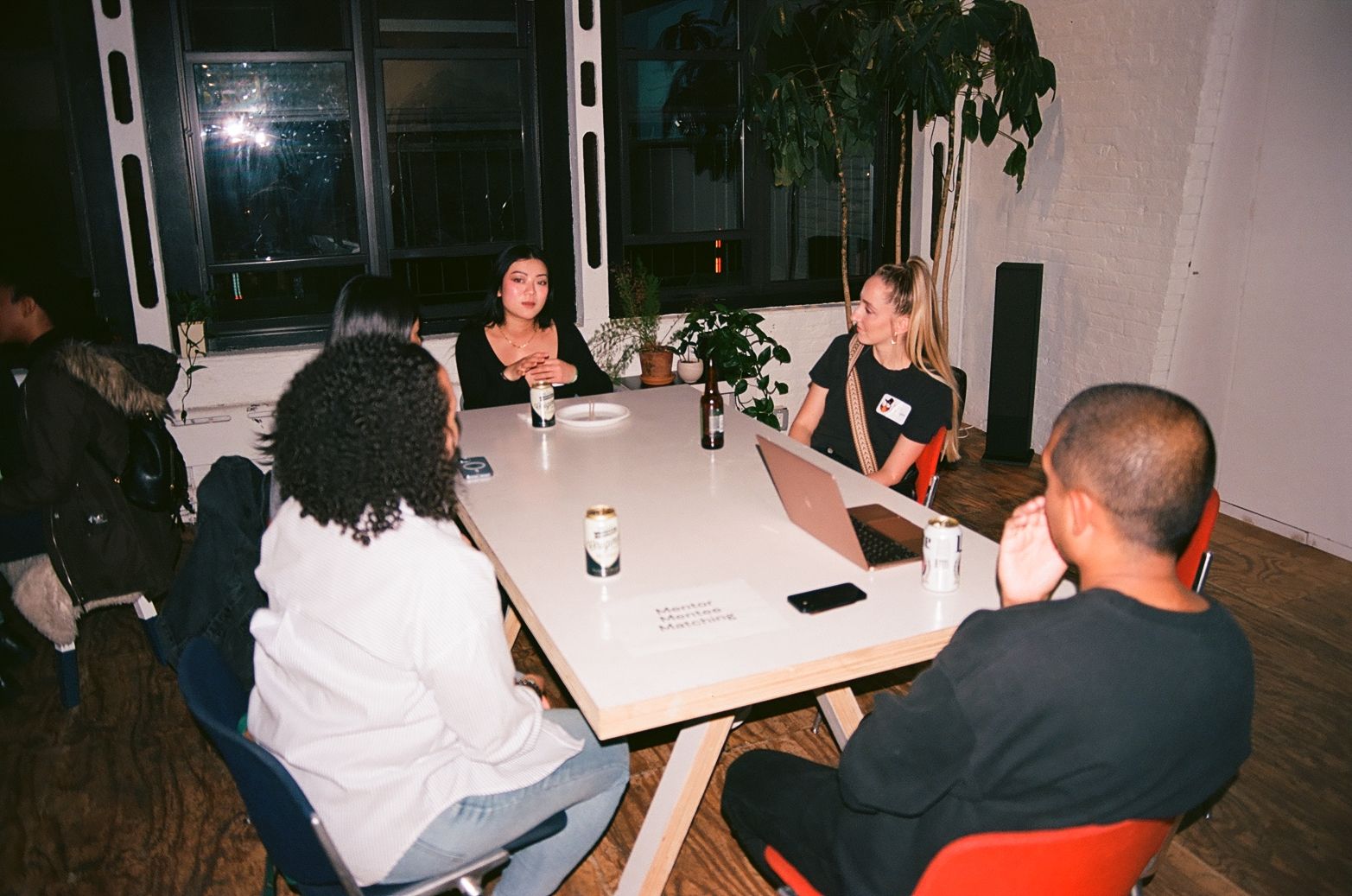 Folks then participated in speed networking by answering questions like
What did you have for breakfast this morning?
Are you an early bird or night owl?
What do you hope to get out of tonight's Merit event?
It was a great way for everyone to learn more about the people around them. After these chats, people "introduced" their partner to the group, and these quick one-offs led to folks exchanging contact information.  One attendee even said it "would be great to get a list of contact info / LinkedIn profiles for the attendees in case we didn't get to exchange contact info during the event."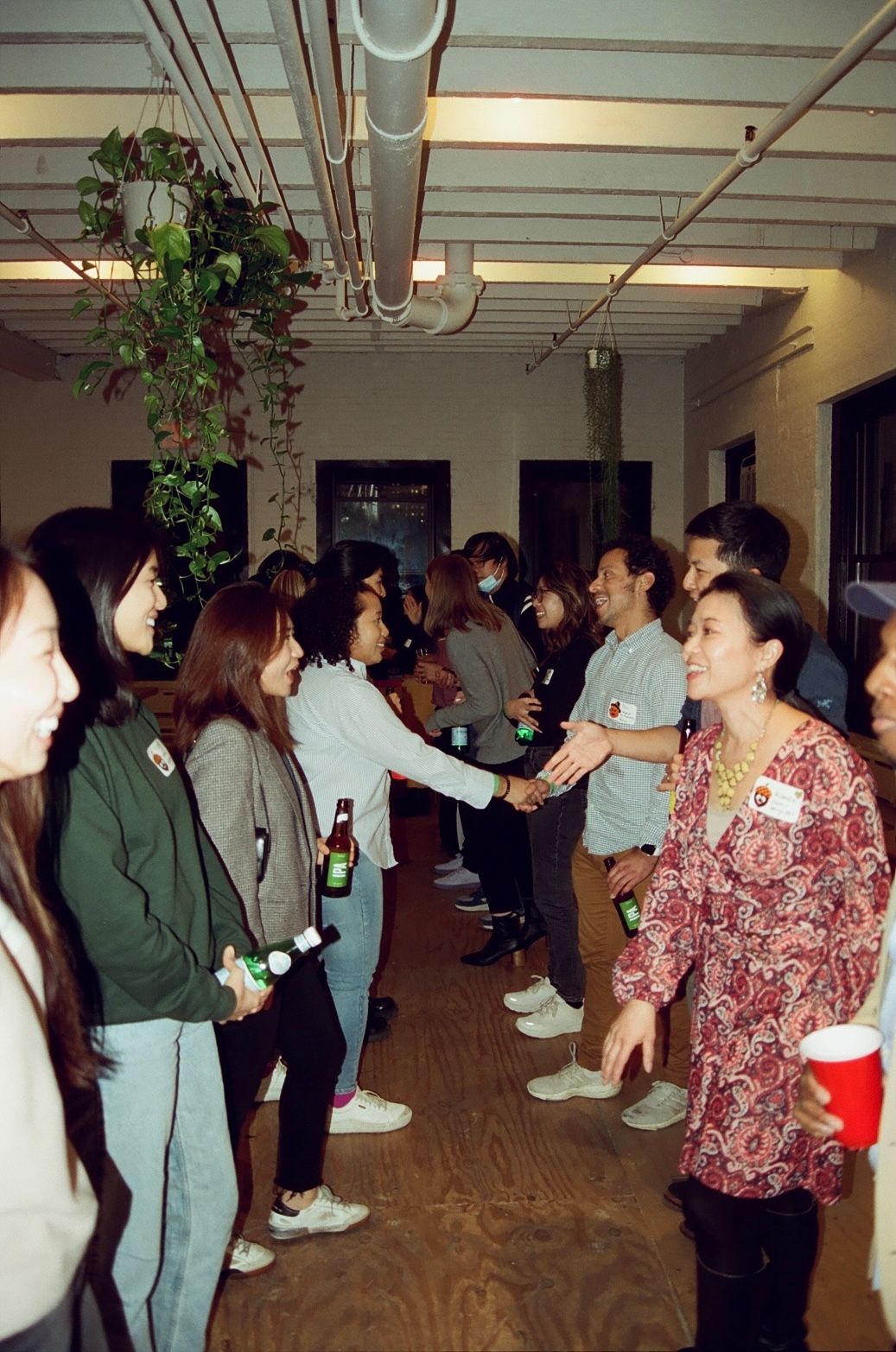 We got great feedback from our attendees, who were a mixture of students, mid-level, and senior professionals in product, engineering, and design:
"Overall, I really enjoyed myself and felt like I learned new things and made genuine connections with people that I intend to follow up on."
"I liked that there were structured events that weren't rigid. I really enjoyed my conversations during the Mentor / Mentee chats especially and also thought that the Speed Networking event where people 'introduced' their partner was a fun way to get to know a bit about the whole group quickly."
"I liked how there was a mix of people at the event in different stages in their careers. Some were job seekers, some were in their first role already and others were mentors who had been in the field for years."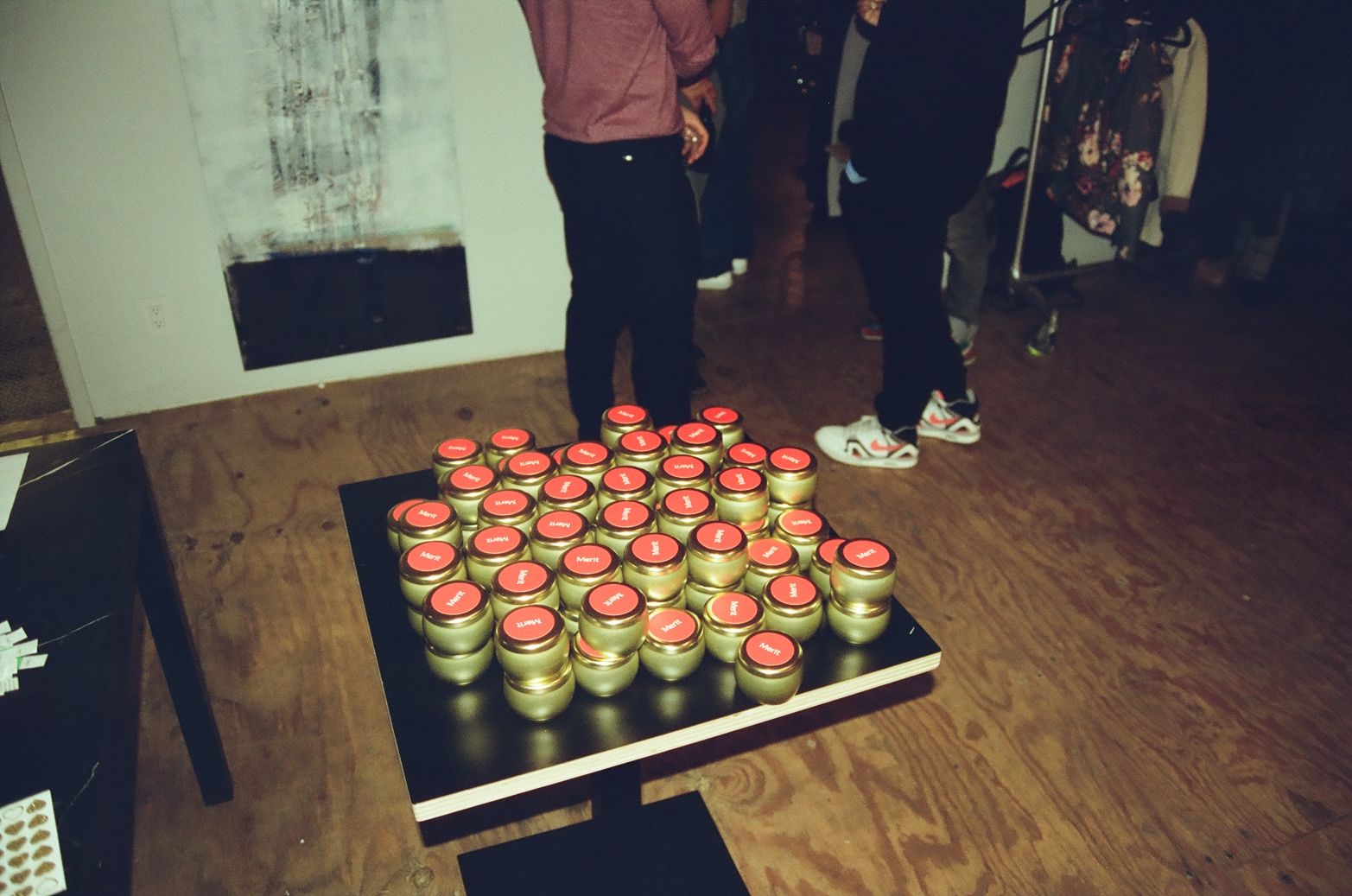 We were thrilled to see so many people come out to support us, and we're already planning our next event. Stay tuned!
A huge thanks to everyone who joined us! Special thanks to BasedIn, Vanessa Dumplings, Michelle Chu, and Max Stafford-Glenn for helping us throw a fantastic event.
---
Want to join the community and learn about upcoming events? Sign up for Merit today to build your professional network and start meeting other folks in tech.