How to Stand Out in a Competitive Job Market
Searching for a job in tech can feel different than it did a year or even 6 months ago. Recruiters are seeing higher numbers of applicants for each open role. Companies have implemented hiring slowdowns or freezes. Some are rescinding offers, even days before the start date. Experience is becoming more valuable as people recently laid off from Big Tech companies enter the job market. The massive hiring binges of 2021 and early 2022 feel like a thing of the past. So how do you get a job right now in this market?
Looking for a job in the current environment can seem daunting, even impossible. But finding a new role is achievable with the right strategies. The hunt may take months and hundreds of applications. But you can level up your search over time to increase your chances of success by adding more tools and ideas to showcase your skills and work.
💡
Asking for help with resume review, mock interviews, and offer negotiation is one way to accelerate your job search. Talking with a mentor on Merit is free, and a mentor on Merit can help you improve your odds of making it to the final round.
Preparing for the journey
Looking for a job is like getting ready to go on a long journey. You know that you need to prepare and that things won't always go according to plan. You'll need to
decide on your fellow passengers
think about where you want to go
create an itinerary
be prepared for delays and setbacks
Decide on your fellow passengers. You never have to go it alone when you're searching for a job. During this time, you're going to need help with resume review, mock interviews, assessing job offers, and moral support. Now more than ever, you need a community and mentors to lean on.
Look to sites like the Hive Index to find communities to join, and use platforms like Merit to find mentors who can help you build your skills and confidence.
Think about where you want to go. When planning a trip, you first have to decide on a destination. For a job search, this usually means the type of role (product manager, engineer, designer); level (entry-level, senior, or beyond); type of company (industry, size, business model); and compensation and benefits.
As more Big Tech companies execute layoffs and hiring freezes, many folks are thinking creatively and looking beyond tech to manufacturing, government, and smaller orgs. Even within tech, some sectors are still growing: both AI and health tech continue to grow. Depending on the type of work environment you want and your career goals, you may want to look outside of startups and larger tech companies.  Be focused on the mission and flexible on the details.
Create an itinerary. Think about the overall timeline for your search as well as your day-to-day schedule. How do you want to structure your days and your search over time? Do you want to set aside a couple of hours every morning for applications? Would you rather set aside one day a week for your job search activities?
How long do you want to commit to this search before re-evaluating what's working—and what's not? Set a date, around 90 to 120 days from now, at which point you'll reevaluate your job search and make adjustments to your strategy.
Maintaining a routine will help with practical tasks like applying to at least one or two roles a day and scheduling interviews, as well as general well-being during a stressful period.
Be prepared for delays and setbacks. To succeed, you may have to apply to hundreds of positions, go through dozens of interviews, and face many rejections. Every rejection can feel like a punch to the gut, but they're also signs of progress. Merit mentor and coach Jason Shen says, "Rejections tell you that you've gone through a process. I think if people are anxious about rejection, they don't apply. The end result is you're not applying. You almost want to track rejections as a way of saying, 'That was me taking a shot.' The more shots you take, the more likely it is that you're going to get to your goal. And if you're not taking shots, then you're not getting any closer to your goal."
Leveling up your search
Considering how time-consuming and emotionally draining job searching can be, it's important to take things gradually.  We've broken down five areas where you can, over time, use increasingly advanced skills to level up your job search. The five areas can be remembered through the acronym SNAIL.
Showcase: Highlight your achievements and the value you bring
Network: Grow and nurture your professional connections to find referrals
Apply: Apply, apply, apply—and set yourself apart through the application
Interview: Stand out in your conversations
Learn: Continue building and demonstrating your skills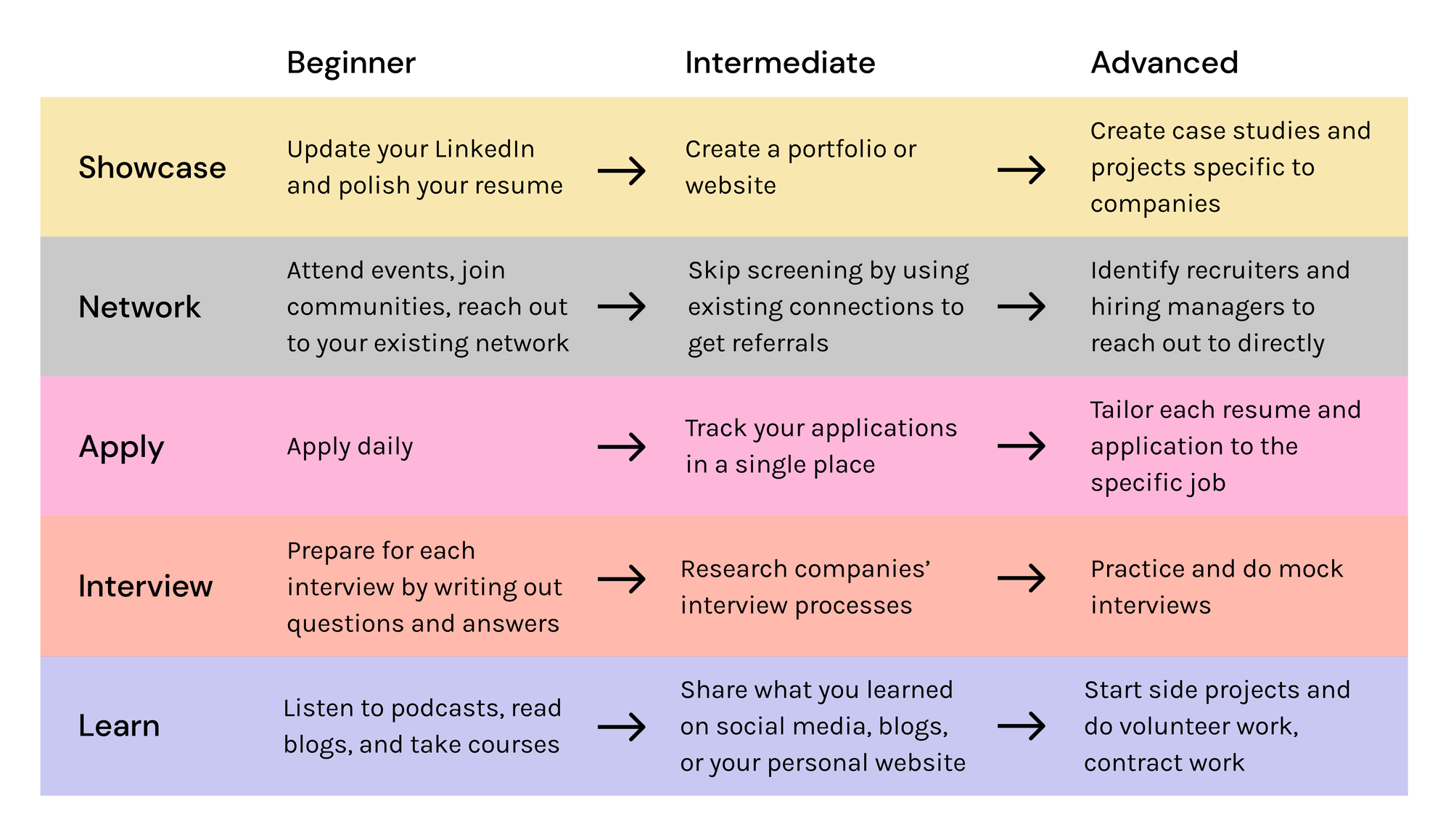 Beginner
Showcase: Put your best foot forward by updating your LinkedIn and resume. Make sure your LinkedIn includes all your previous roles and titles as well as your accomplishments in each. Recruiters are looking for what you helped your company do during your tenure, so emphasize any outcomes you helped drive. Be sure to list specific skills, languages, or technologies that may also set you apart—many recruiters live and die by advanced LinkedIn filters to look for specific keywords in profiles to source candidates.

Also review your resume and give it a good polish. Not only should your resume be easy to read, it should be free of typos and grammatical errors. It's always a good idea to get a second set of eyes on your resume, something a mentor on Merit can help with.
Network: Now is the time to reactivate and extend your network. Lisa Dietrich, Partner at banking comparison site Girokonto, says, "Get involved with companies through social media or events—start conversations with recruiters or leaders in your industry. It's also important to stay connected with former colleagues and classmates—you never know who might have an opening that you're perfect for." You can do this several ways.

1. Reach out to former coworkers and classmates for a coffee chat (virtual or in person). Attend meetups relevant to your domain and expertise.

2. Join communities, especially those with Slack, Discord, or message boards where you can begin conversations with other folks like you.

3. Attend events for other folks in your domain, like design meetups.
Apply: Apply to at least one job a day. This process is a marathon, not a race. Progress will come over time, so aiming for one small goal, like one job a day, can help you maintain momentum. If you feel up to applying to 5+ jobs in a day, that's great! If you're not sure where to look for open roles, LinkedIn and Indeed are great places to start. If you're a member of an underrepresented group, DiversifyTech has a job board, and if you're a woman, Elpha also has a great jobs directory.
Interview: Research common interview questions for the types of roles you're applying for. This way, you're less likely to get blindsided during the interview. You can even write out your answers in advance and practice saying them.
Learn: Now is a great time to brush up on skills through classes and courses (often paid), blogs and podcasts (usually free), and books (free from your library), particularly if you're in between jobs.
Intermediate
Showcase: Create a professional website or portfolio. Krittin Kalra, founder of AI content generator Writecream, says, "[Focus] on building a detailed and comprehensive portfolio that showcases the best of your work, as well as highlighting any certifications or awards that you have earned." Multiple sites allow you to create simple pages for free, including Carrd.io.

If you're a designer, chances are you already have a portfolio—now is a good time to update it. If you're a product manager, you can use your website to include more information (that might be hard to include on a resume) as well as links to any case studies or projects you want to highlight. If you're a software engineer, your professional website is a good place to share more about you and link to your Github as well as any side projects you've worked on.
Network: Many job seekers like the simplicity and speed of using tools like LinkedIn's Easy Apply, but your resume will go into a pile next to hundreds of others—making it virtually impossible to stand out. Move beyond Easy Apply by using the connections you've built through networking: ask for warm intros to folks at the companies you're applying to. You're much more likely to get a response if you know or know someone who knows someone at the company.  These intros will come in handy, as Max Benz, Founder and CEO of personal finance site BankingGeek recommends, "Getting referred by someone at the company will give you an edge over other applicants when it comes time for interviews!"

Ask your network if they know anyone who is hiring, and don't be afraid to be direct! Post in community groups that you're actively searching, and reach out one-on-one to friends, former colleagues, and fellow alumni.

Bonus: The more people you connect with from former jobs, the more likely you can ask them later on to act as a professional reference if you reach the final round/offer stage of an interview.
Apply: Track all of your applications in one place. You can track everything in Google sheets, Notion, Trello, Asana, Word—as long as you are recording where you applied, when, and what stage you're at with each company (application, phone screen, onsite, offer, rejected).

Knowing where you've applied and what the outcome was can help you review and assess what's working and what's not working in your job search. It can also help you track against any application goals you've set.
Interview: If you can, learn about specific companies' interview processes. If you're interviewing at a small company, this may be hard to do, but you can check sites like Glassdoor for reviews of the company's interview process. If it's a larger company, you can google "[company name] interview process." If you know anyone who currently works at the company, ask!

Knowing more about the company's process can tell you if you want to apply in the first place (some companies have rigorous or intense hiring processes that may not appeal to everyone—or throw up some red flags about the org) and how to prepare once you've begun interviewing with them.
Learn: If you're regularly acquiring new knowledge and skills, share it with the world! You want to be known for continuing to grow and develop, and you need to communicate what you're learning. You can start a blog or post to LinkedIn to create a track record of professional development and insights.
Advanced
Showcase: Create case studies or projects specific to the company you're applying to. Shen, the Merit mentor, spoke with Merit about how to do this:

"Think about the role that you're interviewing for, and think about how you can create a project that demonstrates your skills in regards to their specific company….If you're a designer and they're an e-commerce site, you might say, 'I reimagined your checkout page to look like this, and here's why.' If you're a product manager or UX researcher, you can say, 'I interviewed five people who use your product, and here are some insights that came out of it.' Those things show commitment and dedication."
Network: Try to connect directly with recruiters and hiring managers for the roles you're interested in. A referral from an employee is helpful, but talking directly to a hiring manager or recruiter is even more powerful. Now that you're regularly meeting with and making new connections, look to see how you might be able to find warm introductions to these folks.

Even a short, personalized direct email to the hiring manager with who you are, why you applied, and why you'd be a good fit would be a great way to start a conversation. This email doesn't need to be a full-length cover letter; just one paragraph of 3-4 sentences would be enough. Spending time a on a short but well-crafted email can go a long way.
Apply: Tailor each resume and cover letter to the role and company. Sharon Heather, Business Development Director at EasyMerchant, advises, "Use keywords from the job posting and highlight your relevant skills and experience." If the job description talks about cross-functional communication in the responsibilities, be sure to include how your previous roles involved it. This process can be time-consuming, but hiring managers and recruiters like to see that you're invested in the role and you've connected the dots on how your experience aligns with what they're looking for.

Additionally, make sure the resume is easy to read and consume. Stefanie Sher, Director of Talent Acquisition at Replicated, notes that most recruiters read resumes in "5 to 10 seconds. We're scanning a resume; we're going to read through it super quick." If you're a software engineer, for example, be hyper clear about what languages you've worked with. If you're a product manager, you might want to highlight which specific technical skills you know.
Interview: Now that you've learned about common questions for your role, as well as interview processes for the companies you're interested in, you can improve your interviewing skills with mock interviews. Mock interviewing simulates real world interviewing where someone asks you questions—except that they can give you feedback afterward with tips on how to improve your answers or delivery. The more you practice interviewing now, the more confident you'll feel in the actual interview.
Learn: The more you can demonstrate experience, the more prospective employers will feel confident in your skills and abilities. Be creative about pro bono work and side projects as ways to gather more hands-on learning. This could be volunteering your skills or services at a local non-profit or creating an app with friends. Whatever you do, make sure to document, write about, and share your work so that your network and hiring managers can understand what you did and how you learned from it.
One of the most important things to remember about any job search is that you don't have to do it alone. Through colleagues, friends, and platforms like Merit, you can ask for help, get advice, and receive support. Find a mentor on Merit today who can help you with interviews, resume review, and more.