Break into Tech with Informational Interviewing
One of the most common questions about tech careers is "How do I break into tech?" The answer to that question differs a lot depending on if you want to go into product, engineering, or design. If you want to break into the tech space but aren't sure what role you want, your first step is setting a destination. Once you know your desired end point, you can set a path to get there.
Deciding which role is the best fit for you should be based on your interests, personality, and skillset. To learn about the day-to-day of a job and if you might enjoy it, you should talk to people who are already doing that job through informational interviewing.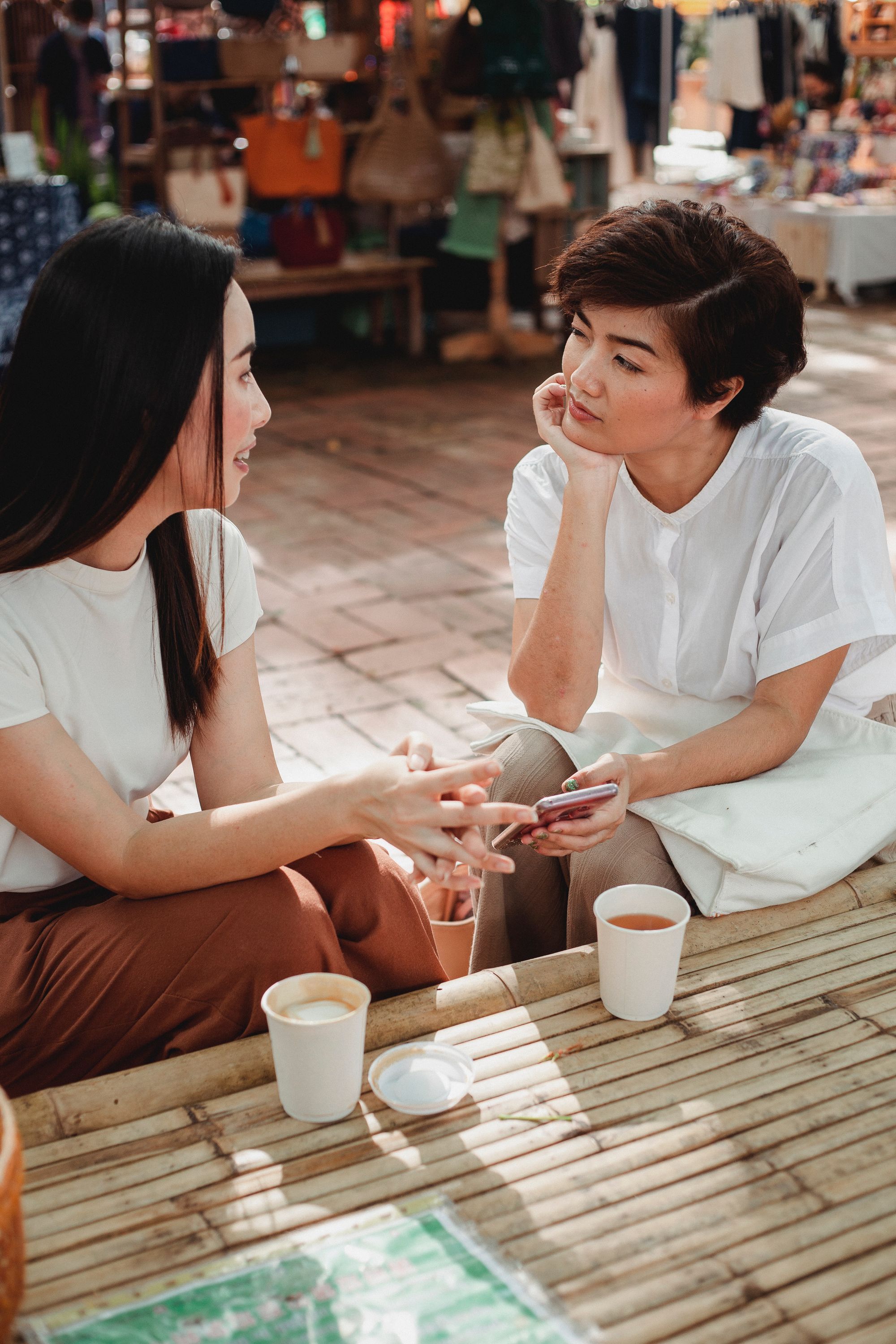 What is an informational interview?
An informational interview is an informal conversation to learn about a career path, a role, and the experiences of someone in a particular job.
Informational interviews aren't job interviews or formal conversations: they're a way to talk to someone doing the job you're interested in and get candid insights that may not be available online.
Informational interviews are useful when you want to know what it's like to work at a certain company, follow a certain career path, or perform a specific job function.
Although researching a specific job or career path helps you ask questions in an informational interview, they are meant to help you gather details you can't easily find online.
Even though it might seem like established professionals in your desired field wouldn't want to talk to you—or that you should be able to figure it all out on your own—asking for help is one of the fastest, most efficient ways to accelerate your career journey.
If you're looking to chat with product managers, designers, or software engineers about their jobs in an informational interview, sign up for Merit. Immediately get access to senior professionals who can help you set and chart your career path.
Your destination determines your path
Your path into tech will be determined by which field you want to go into.
If you want to become a designer or engineer, you'll most likely need some kind of formal training (whether a bootcamp or a degree) followed by an internship or apprenticeship. In a few rare cases, you may be able to find an entry-level job immediately after completing a bootcamp or degree.
If you want to become a product manager, you'll most likely want to join a tech company in an adjacent, non-technical role and make an internal transfer while learning on your own.
Since each path takes time, effort, and in 2 out of 3 cases, a lot of money, it's a good idea to be confident about what you want to do. Informational interviews with people who are in the role will help you determine what's right for you.
How to informational interview to break into tech
To have a great informational interview takes five steps. By the end of the interview, you'll have more information and a connection you can reach out to in the future should you have more questions.
Identify people to talk to
Do a little research on each person
Make a list of questions to ask
Message those people
Follow up
First, identify people in the job you'd like to have. You can find these folks a few different ways:
LinkedIn: Search LinkedIn by the title you're looking to learn more about. You can either type this title directly in the top search bar and scroll down to "People." Or you can visit My Connections > click Search with Filters > select 2nd and 3rd+ degree connections in the dropdown > enter the title in the "Title" field under keywords.
Communities: Seek out communities specifically geared towards the role you want to learn more about. Communities for product managers, designers, and software engineers are easy to find and join through sites like The Hive Index. Some are paid, but most are free! Most of these communities either have Slack or Discord groups or some kind of messaging board. Post that you're looking for product managers/designers/engineers to talk to.
Mentorship platforms: Unlike LinkedIn or community groups, mentorship platforms are full of folks who have explicitly opted in to offer mentorship and guidance. Platforms like Merit are full of product managers, designers, and engineers who actively want people to reach out to them for help. Signing up for and booking time with these mentors is quick (and in Merit's case, free). Check out other mentorship platforms on our blog.
Then, reach out. If you're on a mentorship platform, book time with the mentor directly. If you're in a community or on LinkedIn, send a message. Remember, it's okay (and encouraged!) to ask for help. You can write something like
Hi [their name], My name is [your name]. I'm currently a [your role—it could be student or your current title] at [your company/school] and am looking to become a [role]. I would love to ask you a few questions about what it's like to be a [role] and your path into it. Would you be open to a 20-minute chat over [Zoom/Google Hangouts/phone]? Thanks!
If they respond, coordinate a time to talk. Now it's time to prepare for the interview.
Do some research so that you have a baseline understanding of the role. Consider Google searches like
"[job role] career paths"
"how to become a [job role]"
"what's it like to be a [job role]"
Save the links of the articles you like best and jot down some notes. You can keep these all in a consolidated place, like a Google or Notion doc.
Make a list of questions to bring to the informational interview. These can be whatever questions you think will give you more insight into what it's like to work in the job and how to get there, like
How did you get your first job?
How did you become a product manager/designer/software engineer?
What do you wish you'd known about being a product manager/designer/software engineer before you became one?
What do you like the most about what you do?
What do you like the least about what you do?
What are the biggest challenges of being a product manager/designer/software engineer?
What advice would you give to someone like me who wants to become a product manager/designer/software engineer?
What's a common misconception people have about what you do?
Record the answers in a single place along with the person's name so that you can refer back to them later.
Don't forget to follow up and thank the person for their time! Every meeting you have is a new connection, and creating connections is a critical part of building your professional network. Let them know you appreciate their help and what you plan to do with the information they shared. You can also add these folks on LinkedIn or any relevant communities. Later on, you may reach out to these folks again for help.
Look to adjacent roles
Beyond just talking to the people in the role you want, also consider chatting with folks who work with that role. For example, product managers work closely with software engineers and product designers on a daily basis. To understand more about the work a product manager does, you may want to chat with product designers and software engineers to ask questions like
What are your shared responsibilities with a product manager?
What are your main interactions with a product manager?
How do [their role] and the product manager work together?
Chart your course
Based on what you learned from the informational interviews, formulate a plan for how you'll break into it. Maybe you're a designer, and most of the people you spoke to attended a design bootcamp followed by an internship. Write out the steps you'd take to find, apply to, and be accepted by a design bootcamp as well as how you would find, apply to, and receive an offer for an internship.
For becoming a designer, your plan might look like this:
Research design bootcamps
Apply
→ Create preliminary portfolio
→ Write personal essay
Attend bootcamp
→ Work on 1 side project
→ Join 2 design communities online
Apply for internships
→ Research product design internships
→ Update portfolio and ask for feedback
→ Start 1 new design side project
→ Apply to 1 internship a day
→ Have 1 mentorship call each week with a product designer
You can take your roadmap back to the folks you've talked to and ask for their feedback. This roadmap can be as simple as "After talking to 10 software engineers, I want to do a full-time coding bootcamp. I am considering one of these 5." This allows you to get input from the mentor as well as let them see your progress—something mentors love!
If you feel stuck, don't hesitate to ask for help. No one in tech got to where they are completely on their own. Everyone has had to go through that first job search, first rejection, first interview. Folks in communities and on platforms like Merit are looking to give back and help others launch their careers in tech.
Conclusion
Informational interviewing is an important step in determining how to break into tech. Although online resources can tell you a lot, speaking to someone one-on-one will deliver insights you can't find online. Lean into communities and mentorship platforms like Merit to find folks to interview so you can start charting your course into tech.